10 simple ways to get faster internet while traveling
Staying connected is essential in today's world. But, staying connected on the go can be a difficult task. The slow and spotty network connection can be the only downside of traveling, be it for work or vacation. It might be possible that your workstation destination doesn't get a proper internet connection, or your secluded resort retreat is cut off from the online world. If you face a slow internet connection while traveling, you need to start by conducting a wifi speed test. This will help you to determine if you are getting at least 80% of the speed promised by your internet service provider or your mobile data plan.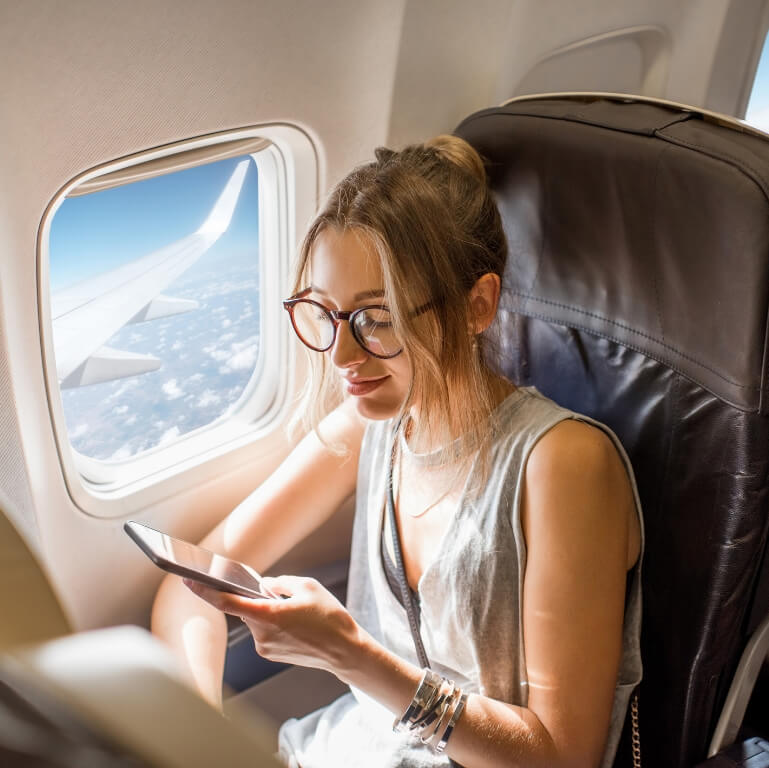 Don't worry! We have got you covered. Here are some of the steps you can take to speed up your internet while traveling.
Use the best internet service provider.
One of the easiest ways to maintain a good internet speed connection is to use the best ISP provider. It would help if you compared all the available providers in the market. Even if a plan from a provider is on the higher side of price, but has good reviews, go for it!
If you rely on a mobile hotspot for your work, you can keep sims of two leading networks. Even if one of your networks is low, the other can provide good network speed.
Airtel provides the best wifi plans for homes in India and works quite well on the go too! You can always rely on Airtel Broadband to get high-speed internet for a home.
External Wireless cards
While traveling, most of us are dependent on wifi connections near us. We all know how weak and unstable these connections can be. In such cases, external wireless cards can save the day for you. With powerful transmitters and great antennas, the wireless cards provide much better speed than a spotty wifi connection. You can plug the card using a USB into your laptop.
The external wireless cards can detect networks that are generally not visible on available wifi connections.
Wired connection in the age of wireless
Even though wireless connections are the new normal and are termed much advanced, the wired connection can improve your internet speed.
Given that wireless connections work using radio signals, a good internet speed can be a rarity in a space with many wireless connections crowding the radio spectrum. The wired connection will have no such issues. You can change a wireless connection to a wired one quite easily.
Step 1:
You need to pack a short ethernet cable with your travel pack.
Step 2:
Check for an ethernet port in your hotel room.
Step 3:
Connect the ethernet port to the network socket using the cable.
This private wired connection can help you to get good internet speed. If your laptop doesn't have a network socket, you can use a USB accessory.
Travel Routers
As the name suggests, these routers are specially designed for those on the go. It is a compact device, perfect for traveling—the device assists in bringing a solid wifi connection to your phone or tablet. The travel router not just detects a strong network but also boosts the speed on a weak one.
Just find a good spot in the area where the wifi network is most robust. Place it there and set it up using a web browser. Let it work its magic for you to enjoy a good internet speed. You can conduct a wifi speed test to determine the rate you are receiving with a travel router.
Change your DNS server.
If your internet connection is prolonged, changing the DNS server might do the trick. You can either go for a CISCO DNS or a complimentary subscription to the Google DNS system. The DNS server doesn't just improve the internet speed. Many open wifi connections are unprotected and can put your device at risk.
External applications for boosting your internet speed
Applications like Speedify.com also help to increase your internet speed. These applications like using bonding technology to connect multiple connections and correct the internet transition errors. The app can be used while traveling to club two internet connection sources.
If you can't implement the steps mentioned above to boost your internet speed, try these alternative steps to stay connected with a weak connection.
Lite version of apps
If you are using mobile applications, there's always an option of switching to a lighter version of the application. A lighter version of the application offers limited features and takes less storage space. Given the elements and the size of the app is less, the data consumed to run the app is also relatively more minor. You can access these apps on a slow internet connection too.
Mobile version of websites
Stick to mobile-optimized versions of websites to reduce the amount of data consumption. The mobile version of any app doesn't require a perfect internet connection. It can be loaded with a weak signal too. Moreover, the mobile version includes all the features and data of the website. So, you don't miss out on anything!
Restrict background usage
If there are too many things running on a connection, the bandwidth is shared by each. Given that you are dealing with a weak connection, it is better to restrict your internet activity to one or two parallel tasks.
You can restrict your laptop and mobile apps from working in the background and consuming data. This will help you to channel the bandwidth to a single task.
Keep these tips in mind to stay connected and online even in the remotest of the areas. And for your house, choose the best wifi plans for home in India offered by Airtel! Conduct a wifi speed test on Airtel Broadband and see the good scores! To know more, visit Airtel's website.